Shriners Children's Lexington has a new furry friend who is making a big difference in the lives of patients with limb differences. 
His name is Chance, and he is a mixed-breed dog who also has a missing leg. 
Chance was rescued from a life-threatening situation and underwent a complex surgery to amputate his left shoulder. 
Now, he is a certified therapy dog who visits the Lexington medical center twice a month to share his love and resilience with the kids he meets.
How Chance Became a Therapy Dog
Chance was adopted by Andrea and Hank White, who both work at Shriners Children's Lexington. 
Andrea is a nurse who worked with amputees for many years, and Hank is a physical therapist who works in the motion analysis center. 
They found Chance through Camp Jean, the same rescue where they had adopted their other dog, Sadie. 
"Chance was found in a surrounding county, starving and with a bullet lodged in his left shoulder," Andrea said. 
Camp Jean took Chance to a veterinary clinic, where he had to undergo a difficult surgery to remove his leg. "The vet told Camp Jean that it was the most complicated amputation he had ever done," Andrea said. 
Despite the odds, Chance recovered from the surgery and came home to the Whites six weeks later. 
They immediately noticed how smart, gentle and friendly he was. "He knew several commands, was housebroken and started running around our yard with Sadie. 
He is the least aggressive dog I have ever had. I decided then and there that he would be a great therapy dog," Andrea said. 
Chance completed his therapy dog training through Love on a Leash. 
He earned a Good Citizenship Certification and then did 10 supervised visits at a nursing home and a public library. 
Connecting with Patients Since June, Chance has been visiting Shriners Children's Lexington during prosthetic clinics, where he meets and connects with patients who also have limb differences. 
He has a special way of making them feel comfortable and happy.
"The kids just light up when we walk into their exam rooms," Andrea said. "They get down on the floor with him. 
Some parents get down on the floor, too. They want to know what happened to Chance. They ask if he still has pain. They want to see and feel his scar. They ask if he has a prosthesis. They show us their missing limb. They tell us about wearing (or not wearing) their prosthesis. If they can remember, they tell us about their surgery. The staff has also welcomed Chance with open arms. He puts a smile on everyone's face." 
Chance has shown remarkable resilience despite all the challenges he has faced. 
That's why he relates to the kids he meets so well. "It's like he knows he's been given a second chance to make a difference in the lives of others," Andrea said.
Making a Difference
Chance's presence at Shriners Children's Lexington is more than just a fun distraction. 
He also offers emotional support and inspiration to the patients and families he meets.
Frazann Milbern, a recreational therapist at Shriners Children's Lexington, said Chance helps ease the anxiety and stress of the clinic visits. "Seeing Chance gives patients and families something to look forward to during a long visit to our prosthetics clinic," she said. "Some visits for prosthetics can last more than an hour, so visiting with Chance is a welcome break. The smiles on the patients' and families' faces say it all." 
Emily Yost, whose 4-year-old son, Arlo, is a prosthetics patient at Shriner Children's Lexington, said meeting Chance was a meaningful experience for their family. 
"Meeting Chance was a wonderful surprise for our family," she said. "I could see that our son felt a special connection and empathy with Chance.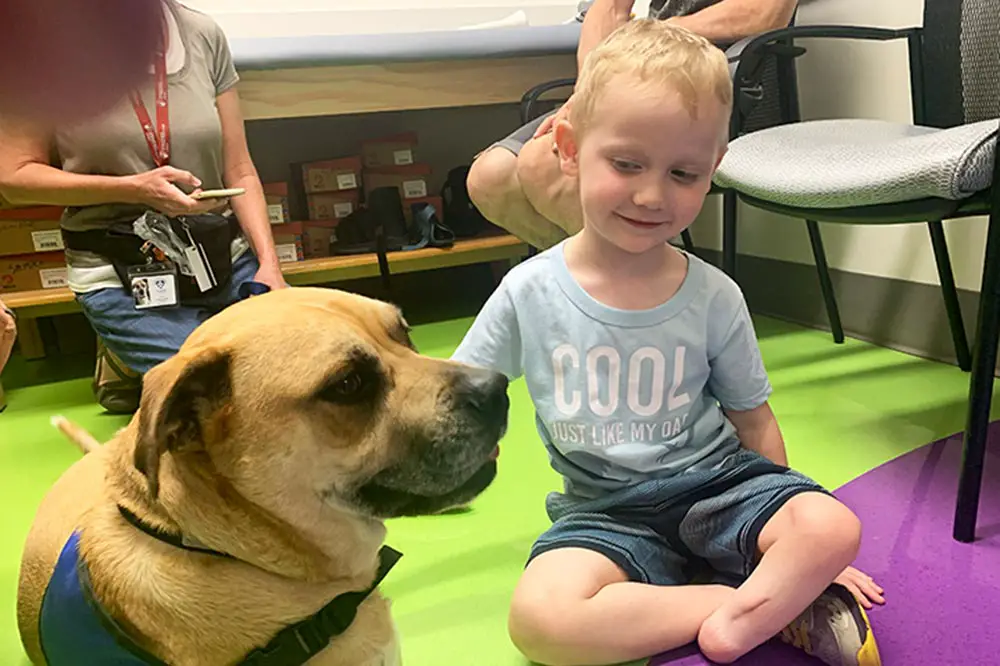 He had many questions after the visit about what happened to Chance and how we could help him more." 
Meeting Chance also created learning opportunities for the whole family. "We explained to Arlo that just like him, Chance is and will be OK, and can do anything he sets his mind to – just like Arlo does every day," Emily said. "The visit was a powerful reminder that physical differences should never stop anyone from enjoying life, and I think it was a great example for Arlo to see such resilience in an animal he loves so much."