Rex is a big and handsome English/French Mastiff mix, but he is also a very scared and anxious dog.
He has a good reason to be: he was abused by his previous owners, who beat him, used a shock collar on him, and even wanted to euthanize him.
Rex was rescued by his current owner, who is his fourth one.
He got him when Rex was 1.5 years old, and since then, he has been trying to rehabilitate him and help him overcome his fear and aggression.
Rex still suffers from anxiety-related behavior, such as resource guarding, barking, and growling. He is also afraid of loud noises, brooms, clapping, and screaming.
According to a study by the University of Helsinki, dogs like Rex are very prone to anxiety-like traits, especially when they are abused during their upbringing.
The study found that 72.5% of 13,715 pet dogs from Finland showed signs of anxiety.
Huxley and Winnie's Support
Rex is not alone in his struggle.
He has two dog siblings who love him and comfort him whenever he is feeling stressed or nervous.
They are Huxley, a fearless and friendly Shih Tzu puppy, and Winnie, a deaf and loyal white dog.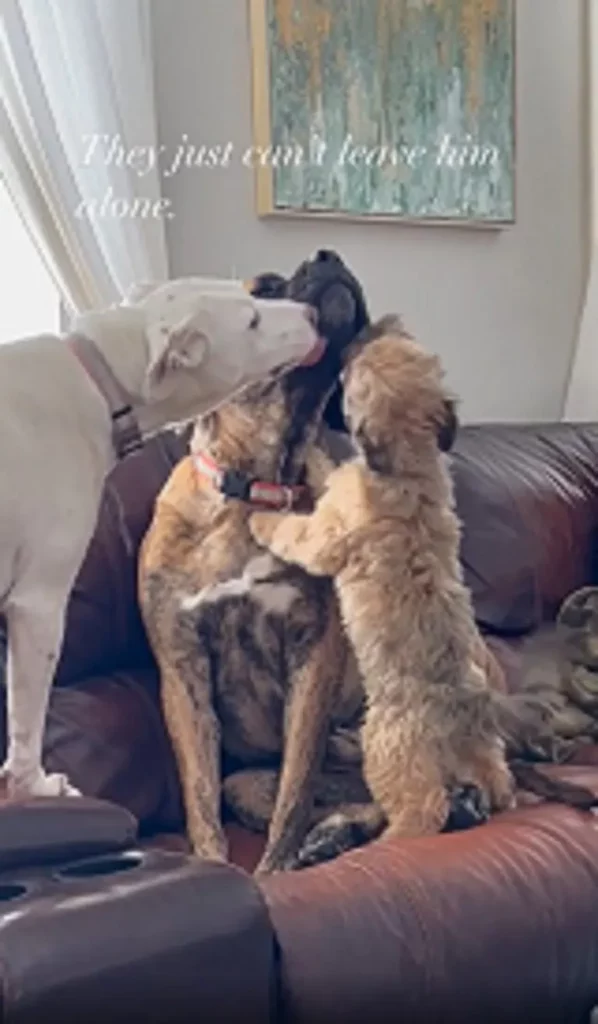 Huxley and Winnie are always there for Rex, showering him with kisses and cuddles.
They don't judge him or fear him, they just accept him and adore him.
They have also helped Rex become more social and playful with other dogs and humans.
A heartwarming video of the two dogs comforting Rex during a photo shoot went viral on Reddit, where it received almost 21K upvotes.
The video shows how Huxley and Winnie try to make Rex smile and relax by licking his face and nuzzling his neck.
A Special Bond
Rex and his siblings have a special bond that goes beyond their differences.
Huxley is a small and happy dog who loves everyone and everything.
Winnie is a deaf dog who relies on Rex to be her ears and guide her.
Rex is a big and anxious dog who needs their love and reassurance.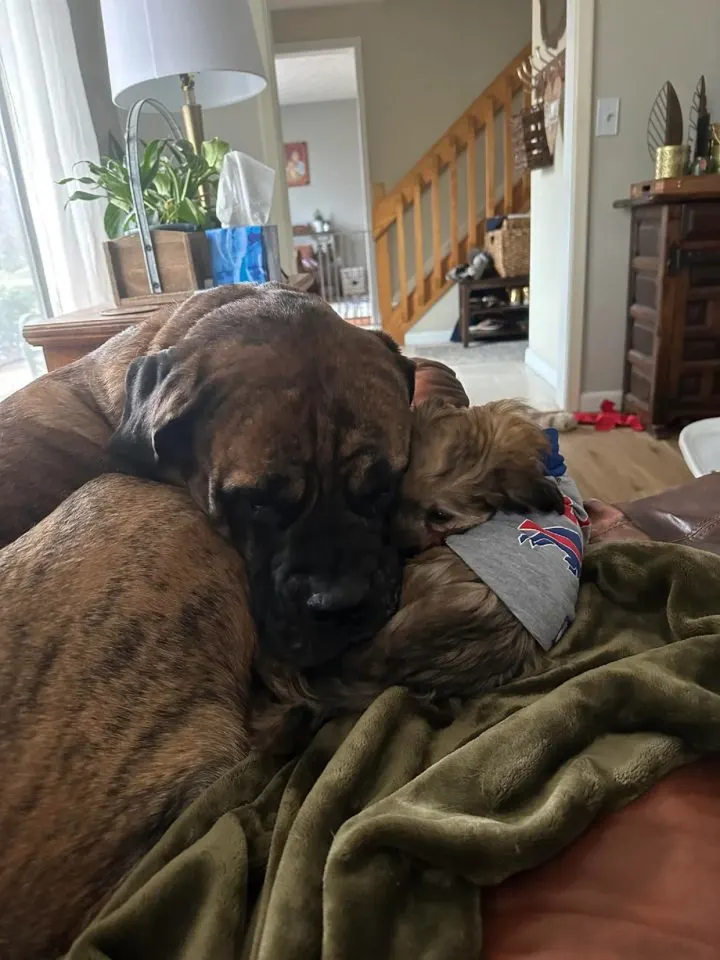 They are a perfect example of how dogs can overcome their challenges and form a strong and beautiful friendship.
They also show how dogs can heal from their traumatic past with the help of a loving family.
Rex's owner is very proud of his progress and grateful for his companionship.
He said: "He was my first dog post divorce, when I was single, so we kind of helped each other a lot." He also said: "I've always said I'm really lucky to have such a cool dog."
We wish Rex, Huxley, Winnie, and their owner all the best in their future adventures, and hope that they will continue to inspire us with their adorable antics.