We often hear that "a dog is a man's best friend", but sadly, not all humans treat dogs with the kindness and respect they deserve.
Some people who claim to love dogs only care about their appearance, and ignore their personality and character.
This is what happened to Dutchess, a lovely dog who was waiting for a new home at the Orange County Animal Services (OCAS) shelter.
She had cysts under both of her eyes, which made her look different from other dogs. But that didn't stop her from being friendly, playful, and cheerful. She just wanted someone to love her and give her a chance.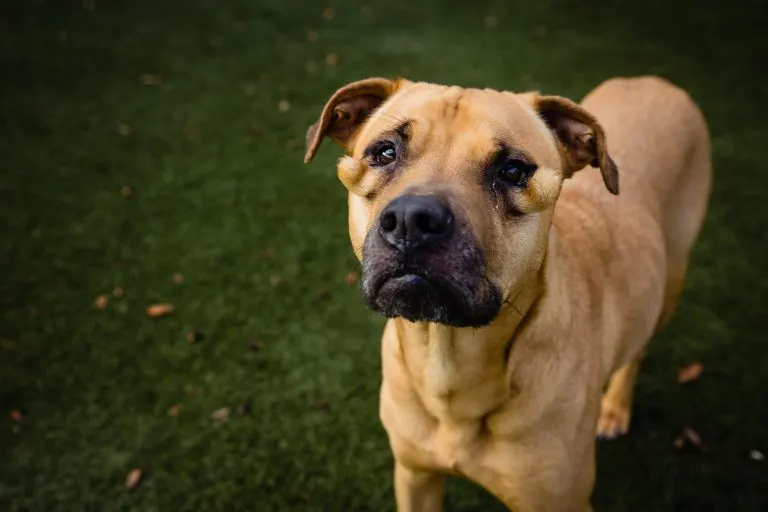 A Lonely Dog with a Wagging Tail
Dutchess was one of the most popular dogs among the staff and volunteers at OCAS, because she always greeted them with a wagging tail and a big smile.
She loved to play with toys and other dogs, and she was always ready for some cuddles. But whenever potential adopters came to the shelter, they would walk past her kennel without even looking at her.
They only saw her cysts, and not her beautiful soul. Some of them even made rude and hurtful comments, such as: "She looks so ugly." "What's wrong with her?" "She'll never get adopted."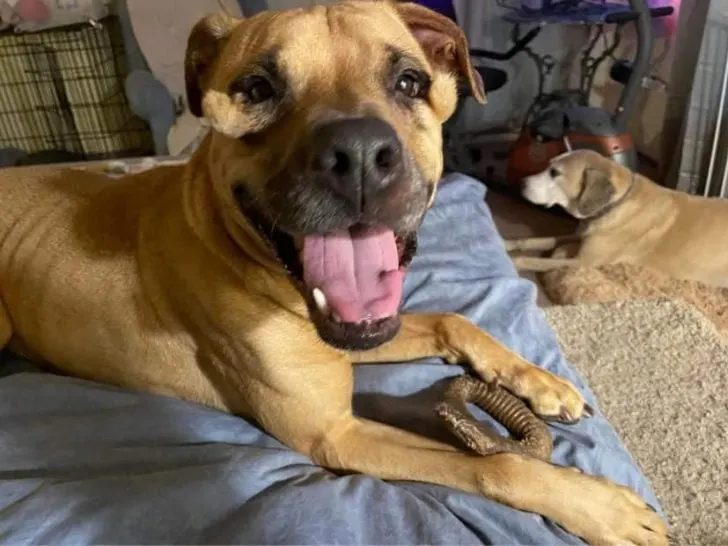 Dutchess didn't understand what they were saying, but she could sense their rejection. She still hoped that one day, someone would see beyond her looks and take her home.
A New Hope for Dutchess
Luckily, Dutchess' story caught the attention of Rescue Dogs Dream, Inc. (RDD), a rescue organization that helps dogs in need.
They decided to take Dutchess out of the shelter and find her a foster home, where she could be more comfortable and happy.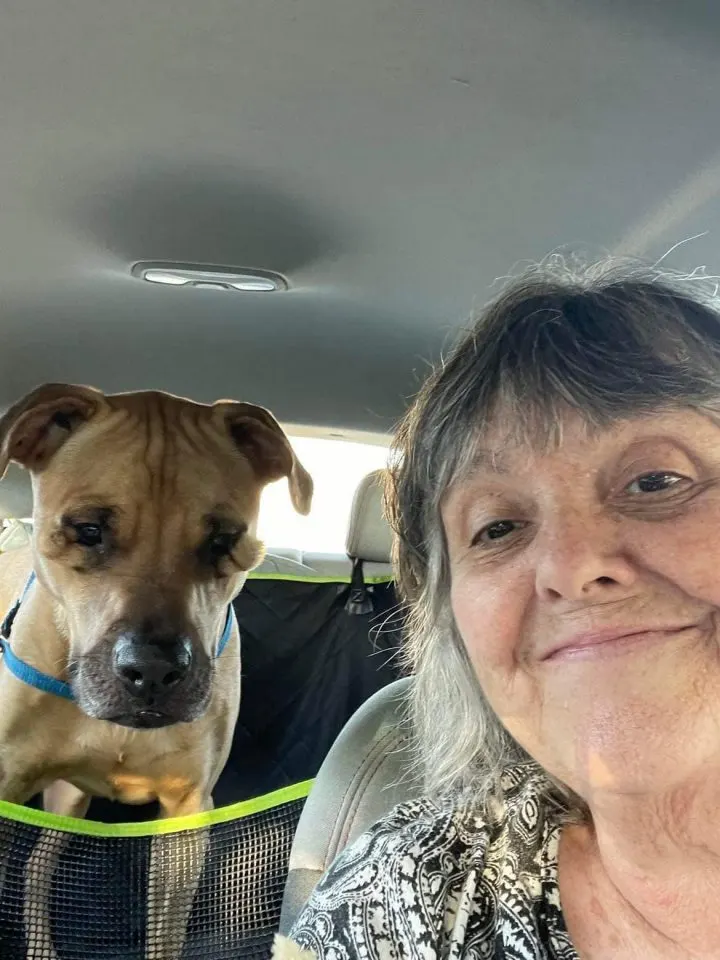 They wrote: "We want to thank Chris Murphy for transporting to us, and Beth Lord for fostering her.
They also posted about her on their Facebook page, where they shared updates and photos of her progress.
She is doing great, and is so happy to be FREE. She scarfed down a McDonald's cheeseburger and is making herself right at home."
Dutchess enjoyed every moment of her foster life, and her foster mom treated her like a princess.
A Transformation for Dutchess
 Although Dutchess was already a cute dog even with her cysts, the vet recommended removing them to improve her health and comfort.
The surgery was scheduled, and Dutchess was ready for it.
But before that, something amazing happened: Dutchess found her forever family! RDD received more than ten applications from people who wanted to adopt Dutchess, after seeing her story online.
They chose the perfect match for her: a couple who had recently lost one of their dogs, and were looking for a new companion.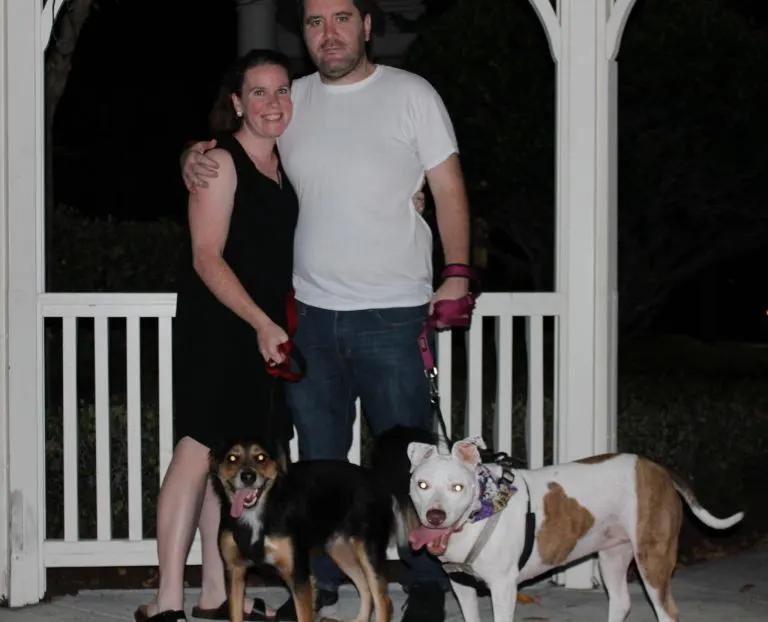 They fell in love with Dutchess at first sight, and couldn't wait to welcome her into their home. RDD announced the good news on their Facebook page:
"We can now announce we have found her PERFECT fit!! She will have a new Mom and Dad that treat their pups like kids. Dad works from home. They recently lost one of their fur babies, and had been looking for the right fit." 
The surgery went well, and Dutchess recovered quickly with the help of her new family. They gave her all the love and care she deserved.
Dutchess Becomes Lena
Dutchess' new parents decided to change her name to Lena, to mark the beginning of her new life.
Lena adapted well to her new environment, and became best friends with her furry brother. She was happy and grateful for everything she had.
Lena was also a blessing for her parents, who had been grieving for their lost dog. She brought joy and comfort to their lives.
Lena's story is a reminder that beauty is not only skin deep, but also in the heart. Lena may have been judged by her looks, but she proved that she was much more than that: she was a loyal, loving, and brave dog who deserved a second chance.
Update
Lena's story has a happy ending, but it doesn't stop there.
She continues to enjoy her new life with her loving family and her furry brother.
She also learns new skills and tricks, and impresses everyone with her intelligence and charm.
She recently graduated from a level one dog training class, and is ready for more challenges.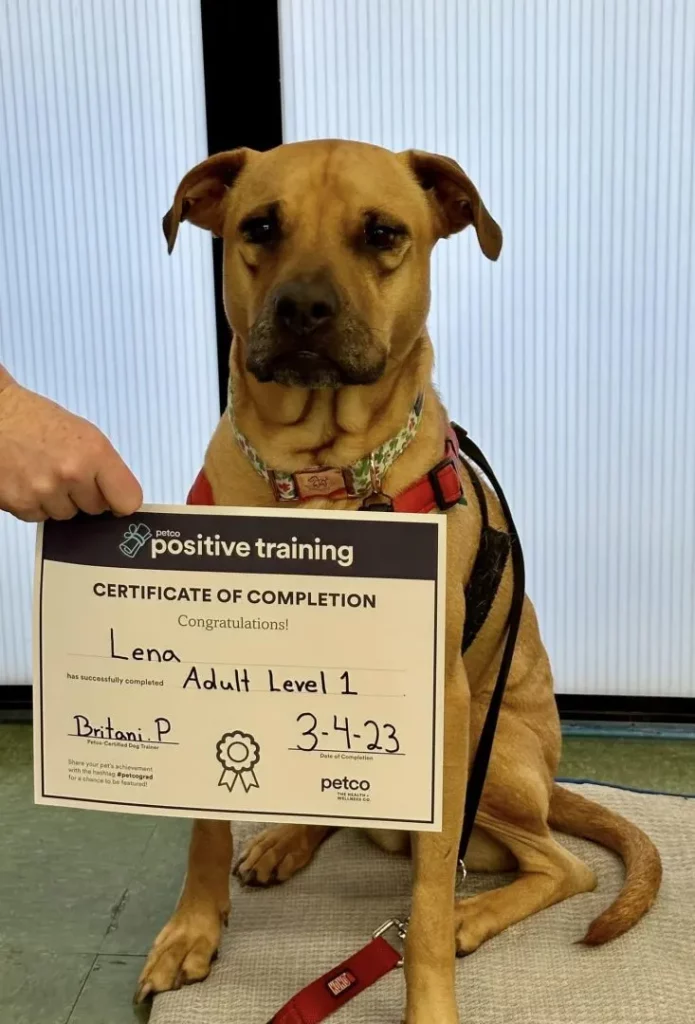 Her parents enrolled her in a level two class, and then a good canine citizen class. They are very proud of her progress, and they shower her with praise and treats.
They said:
"She's so sweet, just loves to play and be around us all the time." 
Lena is one of the lucky dogs who found their forever home, but there are many others who are still waiting for their chance.
They are in shelters, hoping that someone will notice them and give them a chance to show their personality and potential.
That's why we should always keep an open mind and heart when we visit a shelter. We should not judge a dog by its looks, but by its character.
We should look for the ones who need us the most, the ones who are often overlooked or ignored.
That's how we can save a life.
That's how we can make a difference. That's how we can change the world for one.
As the OCAS staff wrote in their post: "So, come to the shelter with an open heart. Look inside every kennel. Look for Dutchess. Look for the ones no one wants. That's how you save a life. That's how you make a difference. That's how you change the world for one."