It's not easy to be a K-9 puppy, especially when you have to attend a formal ceremony.
That was the case for Brody, the newest and cutest member of the Bristol Police Department in Rhode Island.
He was supposed to be sworn in as a Comfort and Therapy dog on Monday, April 6, 2020, but he had other plans.
The ceremony was a significant moment for Brody and his partner, officer Keith Medeiros, as it marked the start of their service to the community.
But Brody was feeling sleepy that day, and he couldn't resist taking a nap on the desk while the Police Chief Kevin Lynch praised him.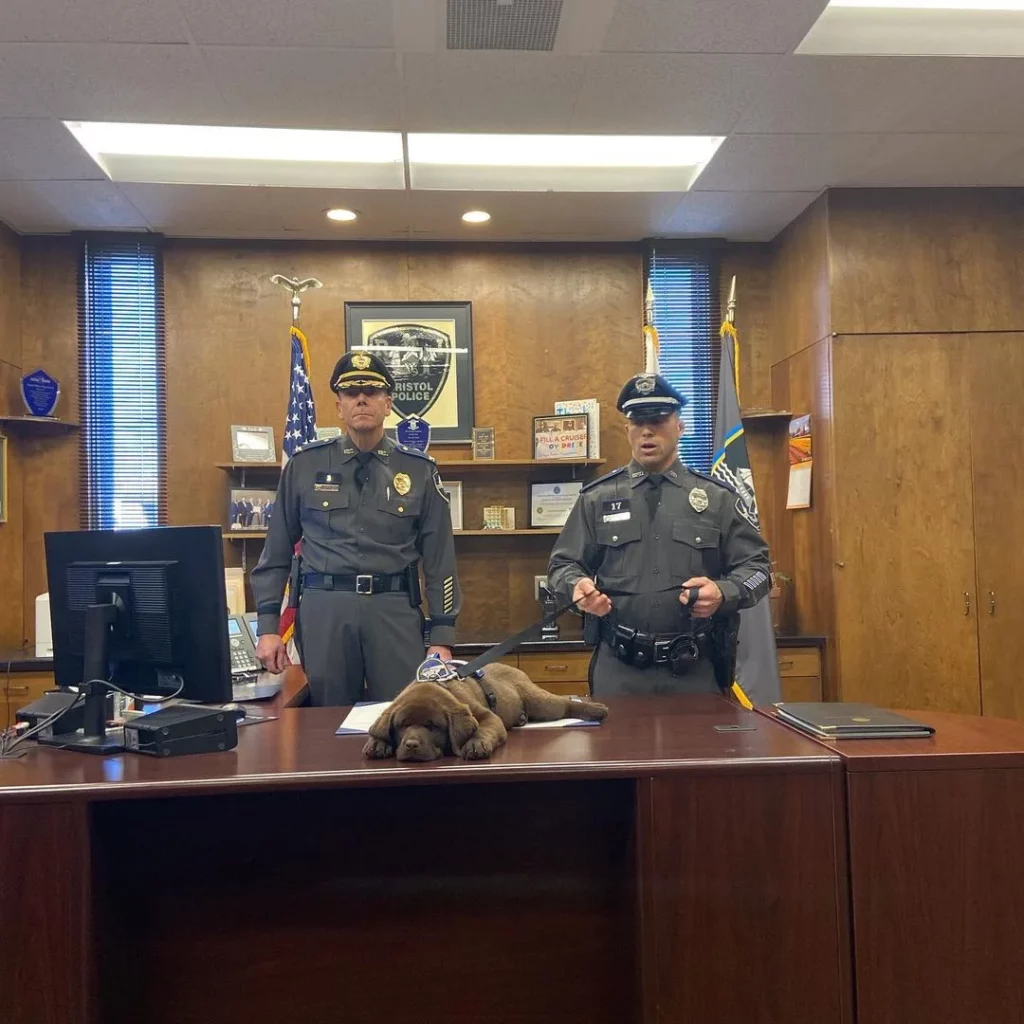 The adorable scene was captured on video and shared on the official Facebook page of the Bristol, R.I. Police Department, where it quickly went viral.
Brody snoozed through the whole ceremony, only opening his eyes briefly for a photo op.
Officer Medeiros told The Dodo that Brody is a very energetic puppy who loves to play, but also sleeps a lot. "He plays really hard, and he sleeps really hard.
 When he's not playing, he's sleeping, which is kind of tough because he sleeps a lot," he said.
No one seemed to mind that Brody was napping, though. Everyone understood that he needed his rest for his important job ahead.
Chief Lynch said, "This is a very big day for the Bristol Police Department and for our future. As soon as Brody wakes up, we will have a lot of successes ahead, and he is going to be a superstar for the town of Bristol. I can guarantee it."
Brody is the first Comfort and Therapy dog for the Bristol Police Department under a new initiative to improve the quality of life of people in the town and to foster a positive relationship between the police and the public.
According to the official Bristol Rhode Island webpage, Brody's name has a special meaning. The 'B' stands for Bristol, and 'Rody' stands for Rhode Island. 
He was donated by Boonefield Labradors, a reputable breeder of comfort and therapy dogs in Rindge, New Hampshire.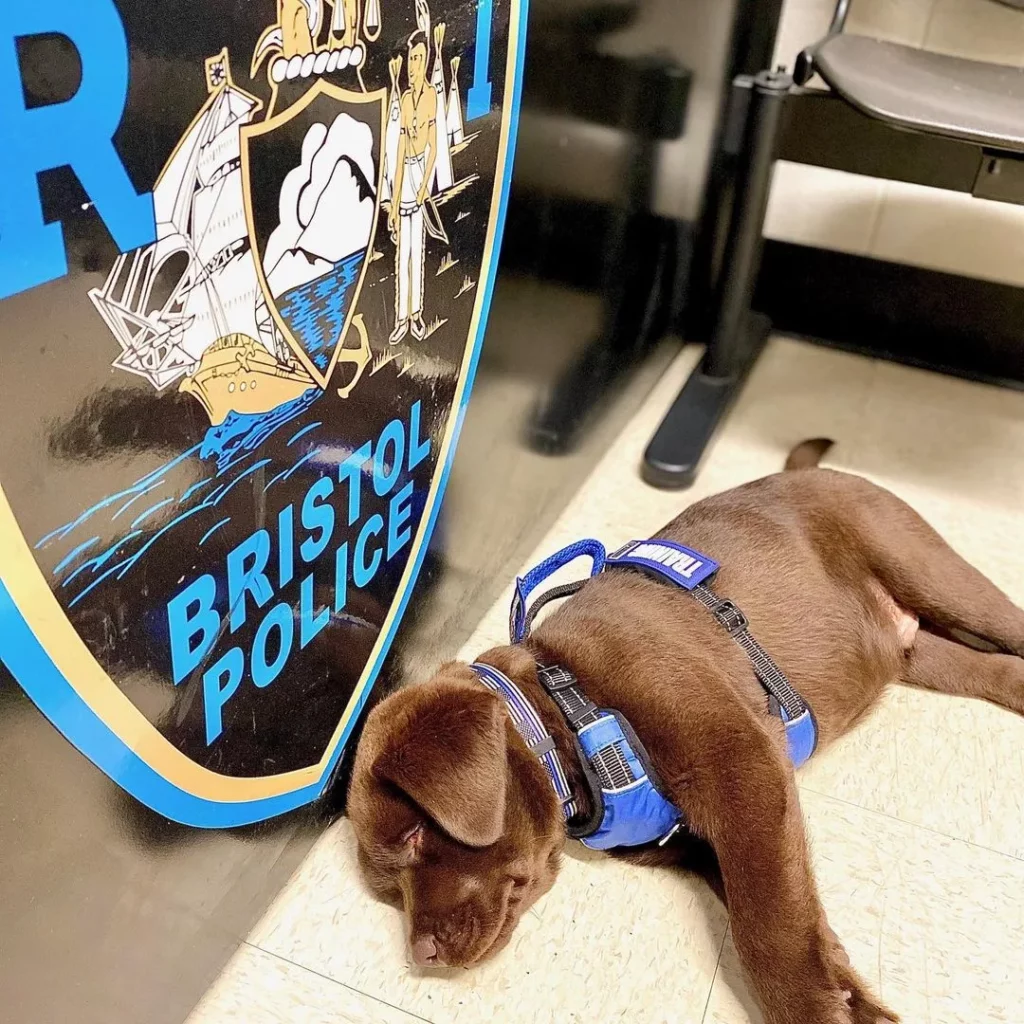 Initially, the police department considered getting a bomb-sniffing dog, but they changed their mind after officer Medeiros proposed a therapy dog instead.
Brody's role will be to visit schools, nursing homes, and crime scenes, and to provide comfort and support to people who are stressed, anxious, traumatized, or lonely.
Therapy dogs have been proven to help people cope with various emotional challenges and to enhance their well-being.
And Brody seems to be doing a great job already.
Officer Medeiros said that Brody brings joy and smiles wherever he goes, especially during the Covid-19 pandemic.
"People are really stressed, especially in law enforcement. Just by walking in the police department with Brody, people immediately smile. They immediately get into a better place. They want to pet him, want to hug him, and it's just a really good thing," he said.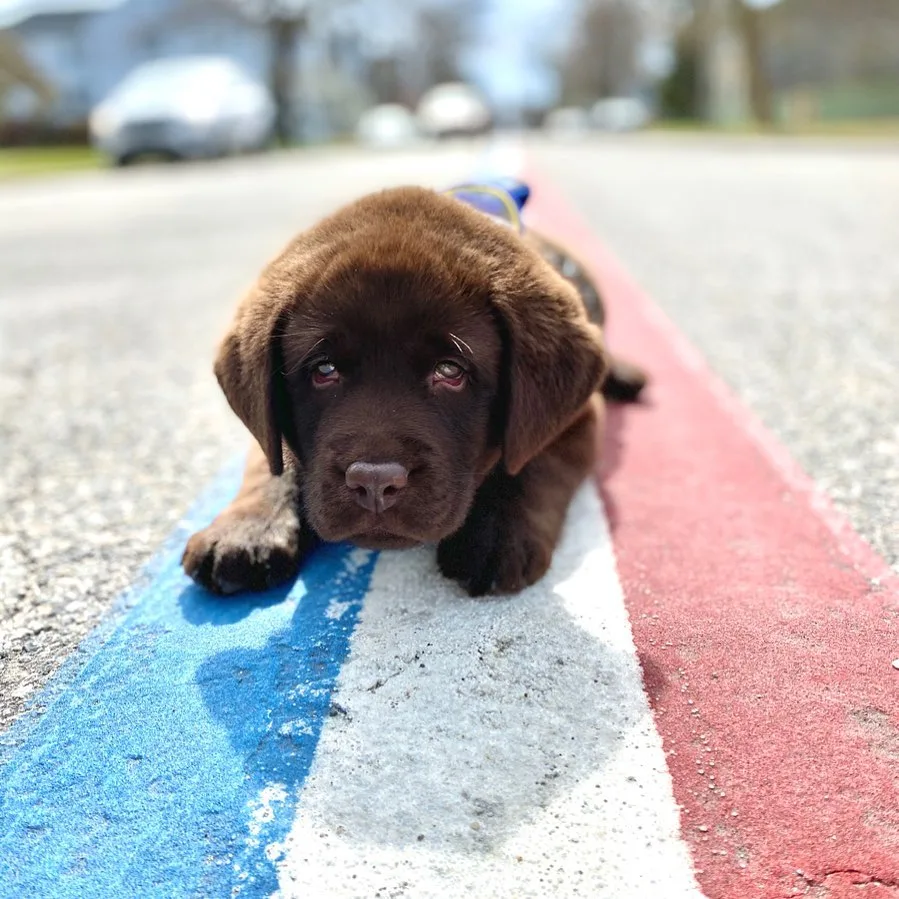 Brody has a lot of responsibility on his shoulders, but he also has a lot of love and support from his colleagues and fans.
He just needs to make sure he gets enough sleep.
If you want to follow Brody's adventures and see more of his cute photos, you can check out his Instagram page.
Congratulations, K-9 Brody!
We wish you many happy years of service filled with lots of treats, belly rubs, and naps.